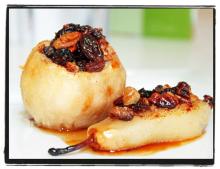 While baked apples and pears may seem somewhat old-fashioned, there is something almost magical about the homey goodness of this dessert. It's sweet. It's satisfying. What's not to love?
2 apples, Braeburn work well, or you can use your favorite
1 pear, ripe but firm
1 oz. pecans, chopped
6 prunes, chopped
¼ cup raisins, lightly chopped
1 teaspoon cinnamon
4 tablespoons Earth Balance butter
4 tablespoons real maple syrup
Preheat the oven to 375° F
Peel the apples and leave them whole. If necessary, trim the bottoms slightly so they sit flat. Remove the core with a small paring knife or an apple corer. Using a small spoon or melon-baller, scrape out some of the apple's flesh to make room for the stuffing. Don't go all the way to the bottom, or the filling will fall through. Peel, and cut the pear in half. Scoop out the core in both halves.
Combine the pecans, prunes, and raisins in a small bowl.
Arrange the apples and pears in an Ovenproof Dish
. Generously stuff the nut mixture into the apple and pear cavities. Top each with a light sprinkling of cinnamon, one tablespoon margarine, and a drizzle of maple syrup. Cover loosely with foil.
Bake in a preheated oven for 20 minutes. Remove the foil and continue baking approximately 10 - 15 minutes more, or until golden. Divide the apples and pears carefully between serving plates and pour over any pan juices. Serve warm by themselves or with a dollop of vegan vanilla 'ice cream' and enjoy!
Serves 2