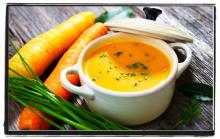 Carrot soup is easy to make and delicious. Whether it's the first course or the only course, we're betting you're going to love it!
2 tablespoons Earth Balance Butter
1 large leek, white and light green parts only, sliced thin
1 1/2 pounds carrots, diced
6 cups Vegetable or Not Chick'n Chicken Broth
1 tablespoon mild curry paste, or 1/2 teaspoon ground curry powder
1/4 teaspoon cayenne
1 teaspoon kosher salt
1 small bunch of fresh chives
Preheat a Dutch oven or large saucepan over medium-high heat.
Add the butter, leek, carrots, and sauté for 5 minutes. Add the broth, curry, cayenne, and salt to the pot and bring to a boil.
Reduce heat to a simmer. Cover and cook until carrots are very tender, about 15 minutes.
Using an Immersion Blender, blend the soup in the pot until smooth. Keep the soup warm over low heat.
Garnish with freshly chopped chives.
Note: The soup can also be pureed by carefully scooping it into a blender or food processor and blending until smooth. (Cool the soup slightly before blending and be careful as the soup is hot).
Garnish with freshly cut chives and or croutons.