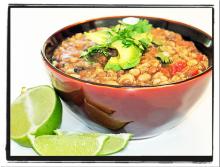 You are going to love this hearty dish. It's the perfect meal where everyone - friends and family alike can gather around the table and enjoy a healthy, delicious meal together.
Beans
* If you are using dried beans, follow the package instructions. You will need 5 cups of prepared beans. If you're looking for a shortcut, substitute (4) 15-ounce cans - one each; black, red, pinto, and lentils (drained and rinsed).
*5 cups Gourmet Bean Blend, prepared or canned. See above.
2 tablespoon olive oil
1 cup chopped red onion
1 red bell pepper, diced
1/2 cup celery, diced
2 garlic cloves, minced
1 tablespoon oregano
2 teaspoon cumin
1 15-ounce can of diced tomatoes
1 cup prepared Better Than Bouillon No Chicken Base
For the bean mixture: Heat the oil in a large soup pot over medium-high heat. Stir in the onions, bell pepper, and celery and cook until tender. Add the garlic and oregano and cook for an additional minute. Reduce heat to medium and stir in the cumin, tomatoes, broth, and prepared beans. Allow the mixture to simmer until the liquid reduces by about half—season to taste with salt and pepper.
For the Rice
2 tablespoon safflower oil
1 cup brown or white basmati rice
1 small yellow onion, diced
2 cups prepared Better Than Bouillon, No Chicken Base, Vegan Certified 8 oz.
For the rice mixture: Heat the oil in a sauté pan over medium-high heat. Stir in the rice and cook for 2 to 3 minutes, then add the onions. Continue to cook for 2 to 3 minutes, stirring frequently. Add the broth and reduce the heat to low. Cover with a tight-fitting lid and allow the rice to simmer until the broth is absorbed and the rice is tender.
Add the rice to the bean mixture and stir to combine. Add additional broth if desired until you reach the consistency you like. Top each serving with avocado, freshly chopped cilantro, and fresh lime juice.