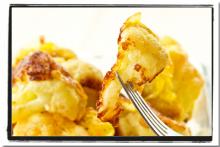 Roasted cauliflower is crazy-delicious, and the caramelized bottoms are an absolute bonus! Preheat your oven before roasting to get perfectly caramelized bottoms and tender but slightly crispy tops.
Preheat the oven to 450°
1 head cauliflower
1/4 cup grapeseed oil
1/2 teaspoon sea salt
1/4 teaspoon freshly ground black pepper
Rinse the cauliflower in cold water, cut it in half and remove the stem and leaves. Break the florets off and cut the larger crowns into bite-sized pieces. Use a paper towel to dab the florets and remove the excess water. Place the florets in a large bowl.
Pour the oil over the cauliflower, and add salt and pepper to taste. Toss the cauliflower to coat all of the pieces.
Spread the cauliflower evenly on a baking sheet or roasting pan lined with parchment paper.
Bake in a 450° oven for 20 to 25 minutes, or until the cauliflower is tender and browned on the edges. (No need to turn the cauliflower during the roasting process).
Adjust the seasonings to taste.