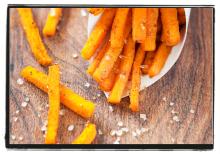 Spicy sweet potato fries have just the right amount of heat to keep you coming back for more! They're easy to make, crazy delicious, and quite possibly one of the best snacks in the entire universe. We're. So. Not. Kidding.
4 large sweet potatoes
1/4 cup peanut oil
1 clove pressed garlic
1 teaspoon kosher salt
1 teaspoon chili powder
1/2 teaspoon cumin
1/4 teaspoon cayenne
salt for sprinkling (optional)
Preheat oven to 450°
Prepare your baking sheet by lining it with "crinkled" tin foil and lightly coating the foil with a non-stick cooking spray which will help keep the baking sheet clean and allow the fries to cook more evenly and without sticking.
Peel the sweet potatoes. Cut each potato into 4 or 5 slices, then cut each slice into fry size sticks.
Place the cut potatoes into a large bowl and set them aside.
Add the oil, garlic, salt, chili powder, cumin, and cayenne in a small bowl and stir to combine. Pour the oil mixture over the fries and toss to coat.
Place the fries on the prepared baking sheet in a single layer.
Bake for 18 to 20 minutes, or until the fries are thoroughly cooked, soft in the middle, and crispy outside.