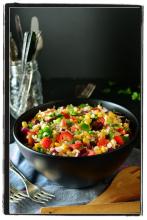 Brown rice creates a delicious foundation for summer veggies. Tossed together with the yummy lemony dressing below makes this the perfect summertime salad!
Salad
3 cups cooked brown rice, cooled
1/2 cup lightly toasted walnuts, coarsely chopped
1/2 red or green bell pepper, cored, seeded, and diced
1/2 yellow or orange bell pepper, cored, seeded, and diced
1 cup fresh or frozen corn kernels, blanched or raw
1 tomato, diced
1 small cucumber, peeled, seeded, and diced
1/2 cup red onion, diced
One 15-ounce can of kidney beans, drained and rinsed
1/4 cup chopped fresh parsley
Dressing
3 tablespoons fresh lemon juice
2 tablespoons apple cider vinegar
1 tablespoon stone-ground mustard
1 tablespoon agave nectar
1/2 teaspoon kosher salt
1/2 teaspoon hot sauce
freshly ground black pepper
3 tablespoons extra virgin olive oil
Combine the brown rice and nuts in a large serving bowl. Add the bell pepper, corn, tomato, cucumber, onion, beans, and parsley. Set aside.
Whisk together the lemon juice, vinegar, mustard, agave, salt, hot sauce, a dash of freshly ground black pepper, and olive oil in a small bowl.
Pour the dressing over the salad and toss again. Allow it to rest for 10 to 15 minutes before serving.
Adjust the seasoning if needed before serving.
Refrigerate any leftovers.