Category
Sauces, Dips, Dressings & Spreads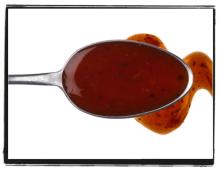 This marinade flavors the tofu so that no matter the recipe, it always tastes delicious!
Bake, grill, or broil the tofu after marinating, then toss it with rice, pasta, or your favorite greens. It's delicious every time!
1/2 cup low-sodium soy sauce
3 tablespoons rice wine vinegar
2 tablespoons pure maple syrup
2 cloves crushed or minced garlic
1 teaspoon toasted sesame oil
2 tablespoons freshly grated ginger
1/2 teaspoon Chinese Five-Spice Powder
1/4 cup vegetable or canola oil
Whisk all of the above ingredients together in a small bowl.
Use the marinade immediately or store it in a sealed container, refrigerate, and enjoy it within 7 to 10 days.
This sauce can also be used to season rice and vegetables as well!
Enjoy!