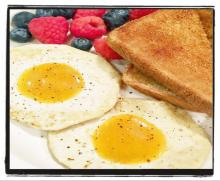 Before my vegan days, I loved fried eggs, a semi-firm egg-white, slightly crisp around the edges, combined with a rich and creamy, runny yolk. It was the perfect combination of texture and flavors.
If you've missed eating fried eggs like me, you'll love this recipe. Serve this next to hashbrowns, vegan sausage, and toast, or put it on your garden burger for the ultimate burger experience!
No matter how you serve it - you're going to love it!
Here's what you need:
For the Vegan Egg Yolk:
1 cup of unsweetened non-dairy milk
2 teaspoons cornstarch
2 teaspoons all-purpose flour
1 tablespoon Nutritional Yeast Seasoning

2 teaspoons canola oil
1/2 teaspoon Black Salt
(Kala namak)
1/2 teaspoon turmeric
1 tablespoon vegan butter
Combine all the above ingredients, except the butter, into a small saucepan and whisk until well blended.
Place the pan over medium heat and continue whisking until the mixture bubbles - about 5 minutes. Cook for another 30 seconds; remove it from the heat and stir in the vegan butter. Cover the yolk sauce to keep it warm and set it aside.
For the Egg White:
1/2 to 1 block of firm or extra-firm tofu
1 teaspoon vegan butter
Use a Tofu Press, or clean kitchen towel to drain off the excess water from the tofu. Next, use a sharp knife to cut the block of tofu into 1/8-inch to 1/4-inch thick slabs, then using a Biscuit Cutter, cut the desired size of "fried egg," and the desired size hole for the "yolk center." OR cut away the corners to make a round/oval shape. Then, with a small cup (or spoon tip), cut a hole in the center that measures about 1 1/2 inches in diameter.
Melt the butter over medium heat in a non-stick skillet (preferably cast iron). Add the tofu cutouts and fry until lightly browned and crisp around the edges, about 2 to 3 minutes per side. Place the tofu on a plate, then fill the center with the "egg yolk mixture." **
Season with freshly ground black pepper, and enjoy!
** If making your "fried egg" look like a fried egg isn't essential to you - don't worry - looks aren't everything! For example, you can skip cutting a hole in the tofu and instead fry the sliced tofu, place it onto a plate, and drizzle the "yolk" sauce over the top. It's delicious either way!