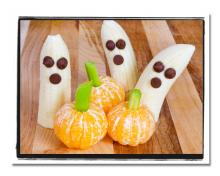 Fun and healthy Halloween treats don't have to be complicated. Set these out on a platter at your next Halloween party and watch them disappear!
4 bananas
a handful of dairy-free chocolate chips
8 mandarin oranges
1 celery stalk
Peel and cut each banana in half. Lightly press the chocolate chips into the banana to create the 'face,' 2 eyes; tip-side facing out, and 1 'open mouth'; tip-side pressed into the banana, so the flat side is showing.
Next, peel the mandarin oranges. Cut the celery into four equal-sized pieces, then cut each celery piece in half lengthwise. Put the celery in the middle of the orange, leaving a little showing for the 'stem.'
Arrange them all on a serving platter and enjoy immediately!
Double or triple this recipe for a large party. The more, the merrier!