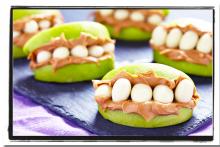 Halloween Monster Mouths are easy to assemble and great fun for everyone! Kids and adults alike will love them!
2 Granny Smith Apples
2 cups cold water
juice of 1 lemon
1 1/2 cups peanut butter
60 white or yellow Jordan Almonds
Quarter each apple, then hold your knife at an angle and cut and remove the core from each quarter.
Cut each quarter into three equal-sized slices. Thus, you should have twelve pieces per apple, with a combined total of twenty-four apple slices.
Add 2 cups of cold water to a large bowl and squeeze in the lemon juice. Put the apple slices in and stir them around gently. Let them sit in the lemon water for 3 to 5 minutes, then strain. Do not rinse them. It will keep the apples from turning brown.
Assemble the mouths:
First, blot the apple slices dry using a paper towel, then spread one tablespoon of peanut butter on the flesh side of the apple, one side only. Set five Jordan Almonds or other chosen "teeth" vertically along the skin side of the apple.
Spread a tablespoon of peanut butter on the second apple slice and gently press the apple, peanut butter side down, onto the top of the first apple slice, securing the 'teeth' in between.
Continue until you have all twelve monster mouths assembled. That's all there is to it!
Note: If you're not a fan of Jordan almonds, or if you have wee little ones? You can swap them out and replace them with mini marshmallows, raisins, dried cherries, almonds, almond slivers, peanuts, pumpkin seeds, or anything else you like.
Have fun! Get creative!
Makes 12 Monster Mouths.