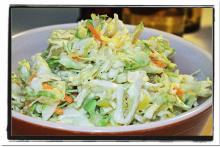 This coleslaw recipe has officially been 'veganized.' It's my take on a coleslaw recipe served by Cheeseburger In Paradise in Maui, Hawaii. It's light. It's sweet. And it's delicious!
1/2 cup vegan mayonnaise
2 tablespoons champagne vinegar (you can substitute apple cider vinegar)
2 tablespoons agave nectar
1 teaspoon soy sauce
1 teaspoon toasted sesame oil
1 8-ounce can of pineapple bits (strained)
1 14-ounce bag of classic coleslaw
Whisk the vegan mayo, vinegar, agave, soy sauce, and oil in a large bowl.
Strain the juice from the pineapple into a separate dish. (refrigerate or freeze for use in smoothies or other recipes).
Add the pineapple bits to the dressing, then add the coleslaw. Gently toss to coat.
Serve chilled. Refrigerate any leftovers.