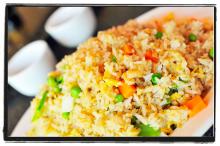 Fried rice makes a delicious side dish, but if it's the main dish you're after, add meatless chick'n strips or grilled tofu, and you'll have a hearty dinner the whole family will love.
4 cups cooked rice; leftover rice works the best
2 tablespoons canola oil
1/2 cup onion, finely chopped
1/2 cup snow peas or snap peas
2 large carrots, small dice
1 cup frozen green peas, thawed
2 green onions, diced
4 tablespoon soy sauce, divided
1 teaspoon fresh grated ginger
1 tablespoon mirin
1 tablespoon toasted sesame oil
Prepare your raw vegetables and place them together in the same dish. You'll be adding these to the wok at the same time.
When all veggies are ready, heat the wok over medium heat and drizzle in the oil. Next, add the vegetables, continually stirring for 3 to 5 minutes.
Add two tablespoons of soy sauce and ginger and mix well. Cook until the mixture is steaming and the veggies are soft - about 2 to 3 minutes.
Fold the cooked rice into the vegetables. Add the remaining soy sauce, mirin, and toasted sesame oil, mixing for about a minute or two.
Add a splash more soy sauce as needed to taste and garnish with toasted sesame seeds.
*Leftover rice works perfectly for fried rice because it has lost much of its moisture. If possible, make the rice a day or two in advance.
Optional: To add "egg" to the rice, we used a little bit of our leftover Just Egg morning scramble. You could also use tofu if desired.