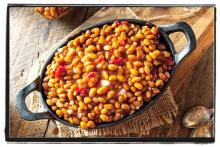 Baked beans from a can usually lack in, well, almost everything as far as we're concerned. So, we've come up with a recipe that adds flavor, texture, and color to ordinary baked beans, making them completely irresistible.
2 tablespoons vegetable oil
1 package vegan Lightlife Smart Bacon, diced
1 medium onion, small dice, divided
1 medium red bell pepper, small dice, divided
1 medium green bell pepper, small dice, divided
1 fresh jalapeno, seeds removed, minced
Four 28 ounce cans of vegetarian baked beans
2/3 cup barbecue sauce
1/3 cup brown sugar
1/3 cup distilled vinegar
2 tablespoons ketchup
1 tablespoon prepared yellow mustard
1 tablespoon molasses
2 chipotle peppers, minced
Here's how we did it!
Coat the bottom of a large, heavy-bottomed oven-safe pot or dutch oven with the oil and fry the vegan bacon pieces over medium-high heat for 3 to 4 minutes, stirring often.
Remove the vegan bacon from the pan and set it aside. In the same pan, add in the onions, peppers, and jalapeno. Saute until tender, about 4 to 5 minutes.
Once the vegetables have cooked, add in the beans, barbecue sauce, brown sugar, vinegar, ketchup, mustard, molasses, chipotle peppers, and the bacon pieces. Stir well to combine.
Bake in a preheated 325° oven for 45 to 50 minutes, until the beans are bubbly.
Carefully remove the pan from the oven and let the beans stand to cool and thicken slightly before serving.