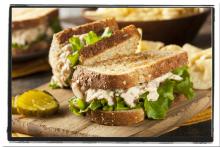 The unique flavor combination of umeboshi plum vinegar, fresh lemon, and dill takes this "tuna" salad over the top - making it one of our favorites! It is delicious and incredibly good for you!
One 15-ounce can of chickpeas, drained and rinsed
1/4 cup vegan mayonnaise
1 tablespoon stone-ground mustard
1 tablespoon Nori Komi Furikake (This is what gives it a "fishy" flavor)
1 large dill pickle, diced small
1 teaspoon fresh lemon juice
Add the chic peas and nori furikake to the bowl of a Mini Food Processor
. Pulse 6 to 8 times, just until it comes together.
If you do not have a food processor, you can also mash the chickpeas and the nori furikake together using a fork.
Next, stir in the vegan mayo, mustard, pickle, and lemon juice.
Finally, grab two slices of your favorite bread, pop them in the toaster if you're so inclined, add the "tuna," some lettuce, more pickle if you like, and a slice of tomato if you want to get super fancy.
You can also skip the bread entirely and serve this over a bed of greens with tomato wedges, avocado, and chopped green onion!