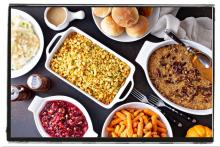 We love the holidays! One of the things we love most is bringing friends and family together to celebrate... and the FOOD! We love creating new recipes, bringing back some traditional favorites, and sharing them all with you!
There are two delicious turkey and ham replacements for your vegan style holiday dinner. Field Roast's Celebration Roast pictured here, and Turtle Island Foods' Tofurky Holiday Roast.
Many delicious side dishes from whipped potatoes to stuffing, to pumpkin pie, are easy to make vegan.
Whether you choose a Tofurky Holiday Roast or a Field Roast Celebration Loaf, you'll have the perfect centerpiece for your holiday table. Just follow the cooking instructions on the package for a perfect roast every time!
Follow the links below to create a delicious, cruelty-free Holiday meal for your family!
For more great holiday recipe ideas and inspiration check out Vegan Holiday Cooking

by Joy Pierson and Angel Ramos, and Vegan Holiday Kitchen
by Nava Atlas.
See below for more delicious holiday recipe ideas.